I made the rookie mistake of getting excited about a first date.
Not even a first date! A Drinks 'n' Winks! I'd never met the guy before.
If you have any experience with online dating, you know any excitement before a first meeting is a recipe for Disappointment. With a capitol D.
Don't be excited for this date, Mary Lane. I tried to talk myself down as I Citibiked to meet him at a bar in the Village. You're just building up a fantasy that's all going to come crashing down when you meet him. This isn't fair to him OR you. Come on, girl! Crash and burn those expectations!
I biked faster, trying to leave my stupid expectations in the dust and grime on Hudson Street. Also so I would be on time. I'm never on time!  …Unless I really want to impress someone…
I know what you're thinking. No, I wasn't excited because he looked like Ryan Gosling/Reynolds.
No. In his profile he described himself as muppet-like. Let's say Adam Driver playing the human version of Walter the Muppet. Cute and goofy. I was excited because he seemed like a genuine goofy, charming, dork. Just like me.
I tried repeating a mantra: This date is going to be meh. This date is going to be meh. Mehhhhhh Mehhhhh Mehhhh. 
Meh is the new Om.
As I approached the bar my heart beat faster. That's just because you biked so fast, I lied to myself. NOT because you're excited. You don't like this boy you've never even met! Shut up! MEHHHH! 
Guys, the date was anything but Meh. It was great. It exceeded all the stupid fucking expectations I'd tried to expel from my mind.
We sat in our own private corner of the bar, separated from the happy hour crowd by a broken pinball machine. Conversation was so easy and fun, we exchanged stories like old friends who haven't seen each other in years but still have a connection like no time has passed. Time with him flew by so fast. But that was okay. We left the bar and it felt like a beginning, not an ending.
I forgot first dates could be that fun.
See, 2016 was a disaster in so many ways, my love life included. It was a whole year of failing to find someone I even wanted to date. Now what a perfect fresh start for 2017!
We hugged goodbye on a street corner and walked off in opposite directions, him waiting for the light to change, me walking down the block. As I walked away I smiled, That was a fucking great date. I wish I'd kissed him.
The minute that thought entered my mind, I stopped still in my tracks.
I wish I'd kissed him.
Then why didn't you? Why have regrets!? If you want to kiss him, kiss him! 
I turned around. He was still waiting for the light! It wasn't too late…
I shoved the thoughts out of my mind: "This is why people like to accuse you of living your life like  it's a movie!" and "If he reads your blog, he's going to think you did this JUST so you could write about!" Fuck that! I just want to kiss him! That's ALL! And I'm going to!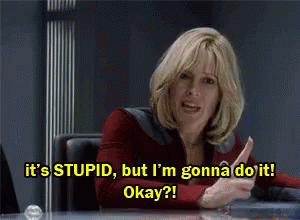 The light turned green before I caught him.
"Stop! Don't cross yet!"
He turned around, smiling, "OK!"
We kissed through the green light, then the red. When the light turned green again I pulled away from him. "Okay. You can go now."
He grinned, "Okay. Bye."
I walked away, I couldn't stop smiling.
And never saw him again.
I know! I know! It sucks!
He didn't ghost. He sent a very nice text telling me I was great but the day after our date he'd become exclusive with someone else he was dating.
Dude, it's not that dramatic, Mary Lane!!!!
I know. I know I didn't really know him after just one date. The important thing here is this was a nice reminder of what the hell I'm waiting for. That it's worth it. And of course:
Oh, and I totally don't regret kissing him. I'd do it again.