Every day is an adventure when you call New York City home. In the city that never sleeps, even a mundane errand like getting a new futon can be a great story.
Once upon a there was a nice black futon cover from Ikea. It lived happily in a New York apartment shared by three roommates. One day the roommates got a little white cat. Soon the black futon looked like a lint brush it was so coated in cat hair. Things got worse, much worse. A night drinking and haphazard hookah smoking left several charred holes in the fabric. Now the futon resembled the nest of a giant, fire-breathing cat. It remained in this haggard state for many moons.
One bright summer day I decided I couldn't take it any more. "I'm getting a new futon cover!" I proclaimed to my roommates, April and Rose, "It's been too long! The old thing makes me depressed!" They readily agreed. With this resolve, we began preparations for the journey to Ikea. That afternoon we set sail for the land of cheap Swedish furniture. Getting to the New York City Ikea is a serious quest! The only places in NYC with enough space for a store of this size are remarkably inaccessible. You can't take the subway to Ikea. You have to drive, take a shuttle bus, or a water taxi. Why go by land when you can go by sea (or at least river)? I told ya this was going to be an adventure!
The boat ride to Ikea is an experience of itself. The air-conditioned inside the NY Water Taxi is clean with cushioned seats. You can opt to sit on the roof where the wind will whip your hair and you'll see some perfect city sights! The downtown city skyline, the Statue of Liberty, the Brooklyn and Manhattan bridges. People come from all over the world to see the sights that are just a part of a local errand run to Ikea!
The boat ride flew, in no time the water taxi docked and the great expanse of Ikea stretched out in front of us. I was a first timer. I'd never been to Ikea before! I was prepared to be overwhelmed. Good thing too, the place is huge! Everything you could possibly imagine for your apartment is here! It's all laid out like a dream! A little fantasy world where you walk around an pretending you live in the perfectly designed rooms they demonstrate. Suddenly you feel your life is incomplete without a funky chandelier above your head, without a watering can for perfectly blooming flower pots!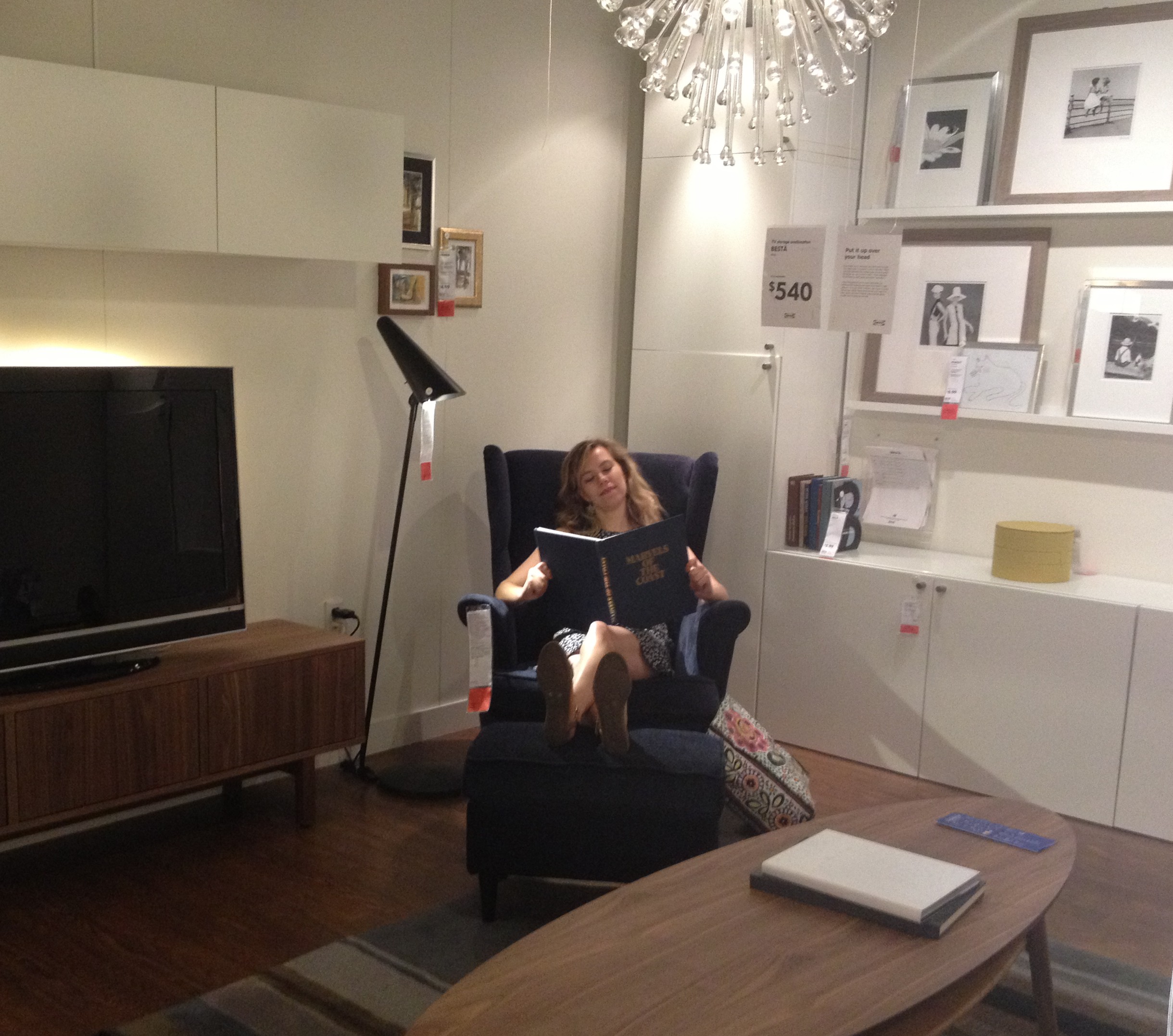 If we were children, we'd throw a tantrum, "I WANT IT! I WANT IT ALL! WHY CAN'T I HAVE IT? IT'S NOT FAIR!!" But we're not children, we're grown-ass women. So instead we pretend to drink wine from the bottles in the "hi- bachlorette-pad-living-room" display.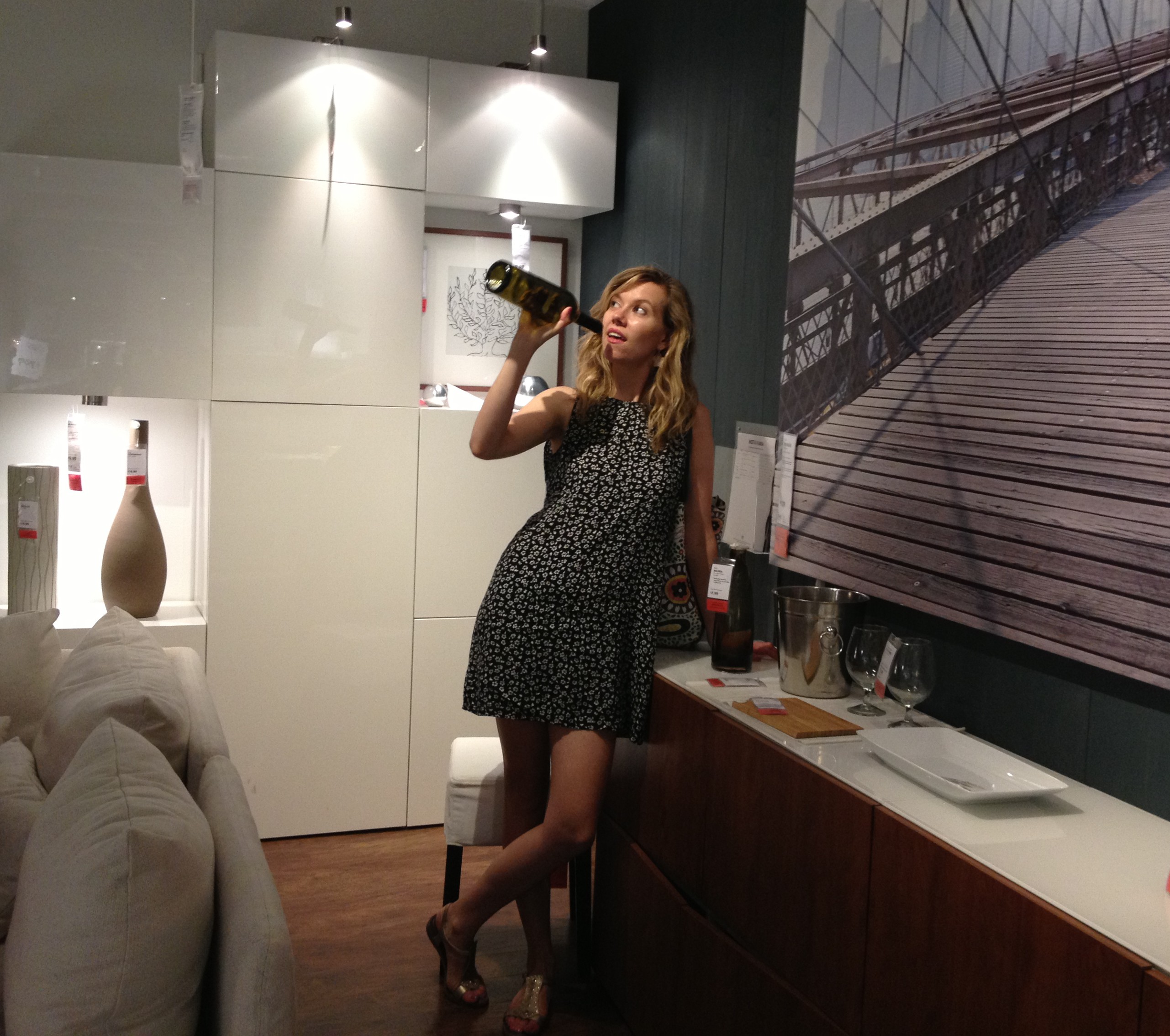 Instead of sitting and pouting, we remember all the furniture is cheaply made and, more importantly, we'd have to assemble it all. Ugh. That makes it much easier to resist buying everything! The one thing we came to get, the futon cover, requires no assembly what so ever. Phew. But we still had to find the damn thing! In warehouse of rows and rows of boxes only identified by serial number!
I thought my head might explode, but it didn't. We finally found the perfect futon cover (and several other small items): quest completed! We got on line, paid for our items, and began the long journey home. We were giddy; it had been a surprisingly enjoyable day and we couldn't wait to replace our sad old futon cover with our lovely new one! It would liven up the whole room! When we got home we ripped the charred, cat hair encrusted mess off the futon and pulled its brand new replacement out of its plastic covering. With much glee we put the new cover on. And then we recoiled in horror.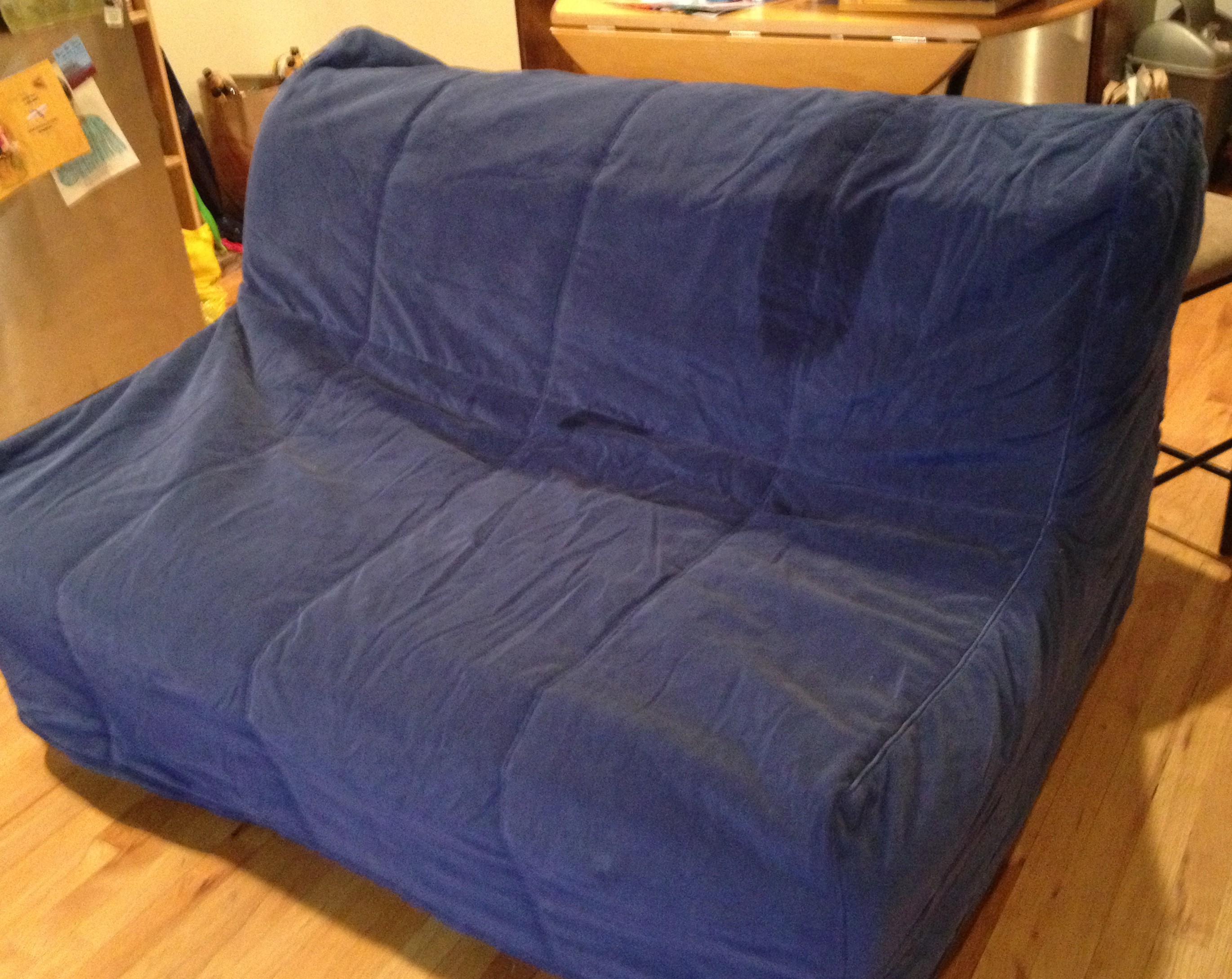 There was a huge stain on it! That's not a shadow from some bizarre chandelier! That's a stain! We were devastated. Then disappointment quickly turned to anger. How could this happen? The thing was sealed in plastic! Our trip to Ikea had taken hours! No one had the time to do it again to return the defective cover! We all immediately jumped on social media, crying out to Ikea customer service our fury. Unacceptable! Huge disappointment! Reprehensible! We're never shopping at your establishment again!
All spoken in the heat of the moment. Turns out Ikea customer service is excellent. So good I will in fact, I would absolutely shop there again (well, only at stores I can get to by water taxi). They delivered a new futon cover to our door with in two business days, no further questions asked. Phew. Well played, Ikea.
Our futon cover is great, almost as great as our trip to Ikea in Brooklyn. I'm serious, it was a really enjoyable day!